Protect Your V-Twin with NEW AMSOIL 20W-50 Synthetic V-Twin Motorcycle Oil
AMSOIL synthetic motorcycle oils are especially popular in V-Twins and with Harley-Davidson owners. Why? Harley owners enjoy the quieter top end and cooler engine temperatures that AMSOIL v-twin motorcycle oil provides, and they sleep well knowing that they have the best protection available for their bike.
AMSOIL 20W-50 synthetic v-twin motorcycle oil provides the best protection available for V-Twin engines and transmissions.
---
AMSOIL has been providing the best protection for motorcycles for years, but the recent (April 2005) introduction of improved motorcycle oils really puts the competition to shame...
AMSOIL is the first to use a brand-new technology in v-twin motorcycle oil that allows premier wear protection (especially in the transmission) along with premier rust & corrosion protection for the off-season. AMSOIL has made a quantum-leap in motorcycle oil technology.
Within the next year or so you will hear of other motorcycle oil manufacturers touting their transmission protection and rust & corrosion prevention. When they do, you will know that, as always, AMSOIL was first!
---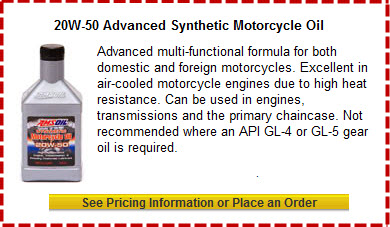 Engine protection comes down to minimizing engine wear – this is a main purpose for using oil. Unfortunately, other manufacturer's v-twin motorcycle oils leave something to be desired in the protection department.
This chart shows the results of a standard laboratory test for how well oils prevent wear under extreme heat (300°F) and pressure, similar to the most severe V-twin engine operating conditions.
Harley Davidson Oil Protection Chart

You can see that the Harley branded oils, even the synthetic Screamin' Eagle®, allow the most wear of the oils tested. The least wear means the best protection...that's AMSOIL.
AMSOIL 20W-50 synthetic v-twin motorcycle oil also provides Harley owners with other great benefits. It will quiet the engine and transmission, lower running temperatures, and enhance overall performance.


---

"I run 12-15 degrees cooler than all the guys I'm riding with"

"I had heard a lot of good things about AMSOIL motorcycle oil used in Harley Davidsons, so I decided to try it out in my 2001 Heritage Softail with the Evolution Series Twin Cam Engine. I noticed right away that the top end of the engine quieted down and on the hot days I run 12-15 degrees cooler than all the guys I'm riding with. I don't sell AMSOIL, but I recommend it after the improvement it made in my Bike."
Guy Keast
Rantoul KS
913-707-7818

---
Harley owners expect Harley-Davidson products to provide the best protection for their vehicles. And rightfully so given the prices they charge! But Harley-Davidson makes motorcycles, not oil, and they have to rely on an oil company to design and make their oil for them - rumored to be a Venezuelan-owned company, no less...
AMSOIL's new 20W-50 synthetic v-twin motorcycle oil is guaranteed to protect your V-Twin engine and transmission for twice the drain interval recommended by H-D for convetional oils. AMSOIL has guaranteed extended drain intervals on their oils for over 30 years. Even if you choose not to run the oil twice as long, don't you feel better knowing it's designed to protect for twice as long?
AMSOIL even designed their own motorcycle filters that filter better, providing even more protection for your engine. The dirt that gets into the oil acts as tiny rocks, slowly wearing down the engine. By filtering better, AMSOIL's motorcycle filters keep these rocks out of your engine, providing more superior protection for your Harley-Davidson.
AMSOIL's motorcycle filters also hold more dirt so that they can be used – along with the oil – for twice as long as regular motorcycle filters.
Just like Harley-Davidson's own Screamin' Eagle® SYN3, AMSOIL 20W-50 synthetic V-twin motorcycle oil is recommended for all three cavities (engine, transmission, and primary chaincase) in modern Harley-Davidson engines. Having only one fluid instead of three eliminates hassle and confusion.
For specific recommendations for other Harley-Davidson models, click here.
Now let's talk about value for your hard-earned dollar: AMSOIL 20W-50 synthetic v-twin motorcycle oil is typically cheaper per quart that Harley-Davidson Screamin' Eagle®! Amazingly, AMSOIL provides superior protection at very competitive prices.
Are you concerned about voiding a warranty from Harley-Davidson if you use AMSOIL synthetic motorcycle oil? Harley-Davidson has confirmed in writing that using another synthetic motorcycle oil will not void the warranty. You can rest easy knowing that your warranty is not in jeopardy if you use AMSOIL synthetic motorcycle oils. Check out this letter to AMSOIL from Harley-Davidson.
AMSOIL 20W-50 synthetic motorcycle oil provides the best protection and the best value for your Harley-Davidson or other V-Twin bike, with millions of miles logged in Harley bikes. No gimmicks, no marketing hype. Just the best oil for America's most legendary motorcycles – Harley-Davidson.
All AMSOIL products have been designed and made in the USA since 1972.
Upgrading to AMSOIL synthetic oil is easy. If you are looking to protect your Harley, improve performance and run cooler, you can order synthetic oil and filters online here.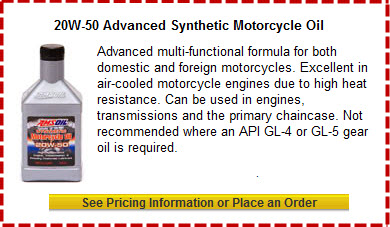 Who Else Wants V-Twin Engine Oil That Really Works
If you want to ride hard with a cooler quieter V-Twin engine then this is the most important packet of information you will ever receive.
Don't decide now if you need to make the change just get the no obligation FREE information package by filling out the information below and in a couple of days grab a cold beer, have a seat and flip through this eye opening information.
We are going to pull back the curtain and let you see exactly what they don't want you to see...
Viscosity breakdown test comparisons of the oil you are using right now that is leading to engine seizure, broke down on the side of the road in a state with helmet laws.
You will be pissed when you see corrosion photos caused by your favorite oil companies cheaping out on additives and ripping you off.
Would you sand blast the honing out of your piston sleeves, no I didn't think so, when you see some of these scoring pictures you will know which oils not to use.
Two of the most popular motorcycle oils that you would be better off replacing with vegetable oil.
You save money on your oil and protect your engine from disaster.
I don't know how long I will have these available so enter your information below now while it is still fresh on your mind and I will rush your package straight to your doorstep.
Request Your Copy Of The Revealing Report That Has Pulled Back The Curtain And Dropped The Industry Giants To Their Knees Begging For Mercy