How to Get the Best Synthetic 2 Stroke Oil for Your Engine
Just How Important is Quality Synthetic 2 Stroke Oil?
Two stroke engines are the primary power plants inside most power sports and recreational vehicles including dirt bikes, snowmobiles, outboard watercraft, remote controlled cars, and also a very large portion of lawn care instruments including weed whackers, leaf blowers, chain saws, and lawnmowers.
Proper lubrication is necessary for any type of engine to work, not just 2 strokes.
However with 2 stroke engines it is especially important that you use a high-quality synthetic oil. Here's why… 
Unlike 4 stroke engines where the crank case is separate from the engine, the 2 stroke engine's crank case is part of the induction tract.  This results in the unique total loss oiling system found in 2 stroke engines.
With both a pre-mix or a pre-lube engine, the oil and fuel are mixed and burned as one. The oil in the fuel is necessary to keep the engine lubricated and working properly.
Since 2 stroke engines are able to run at a higher RPM than the traditional 4 strokes, they tend to wear out a little bit faster. Having the highest quality oil is an absolute must for the health and longevity of your 2 stroke engine.
In recent years, manufacturers have come up with design changes that have allowed 2 strokes to achieve higher efficiency and power through direct injection. This allows for less 2 stroke oil consumption and decreased emissions. 
Founded in 1969 by Al Amatuzio, AMSOIL was the first company in the world to make synthetic motor oil that met the America Petroleum Institute's service requirements. AMSOIL has been working hard ever since to stay ahead of the pack in the formulation of high performance high-quality synthetic motor oil.
AMSOIL focuses extensively on product research and third-party testing to definitively show how well their products perform. Many of their products are put to the test in one of the most high-stress ways possible.
AMSOIL is one of the biggest names in racing. Many dirt bikes, boats, off-road trucks, stock cars, and snowmobiles have crossed the finish line with AMSOIL flowing through their engines. 
Why Use AMSOIL Synthetic 2 Stroke Oil?
AMSOIL Interceptor Synthetic 2 Stroke Oil (AIT)
As I mentioned before, AMSOIL focuses greatly on product research and the testing of their products.
In the winter of 2015/16, AMSOIL's Interceptor synthetic 2 stroke oil was put to the ultimate test.
Interceptor 2 stroke oil was used in three of the top snowmobile models: Polaris Indy 600, Ski-Doo MXZX 600 TNT, and an Arctic Cat ZR 6000.
The snowmobiles were then sent out to three different outfitters in Eagle River, Wisconsin. There they were added into their regular fleet and were beat on for an entire winter by customers.
The snowmobiles were put through all sorts of aggressive driving, frequent throttle bursts, and general carelessness, sometimes operating for the entire day.
At the end of the season, AMSOIL got the snowmobiles back and disassemble the engines to look for wear and deposits inside.
In all three vehicles, AMSOIL's Interceptor 2 stroke oil did an exceptional job preventing piston scuffing, piston ring and exhaust power valve sticking.
All while being WarrentySecure so there was no worry about voiding the warranty. All in all, very impressive results. 
With the increasing governmental regulations regarding emissions, and the resulting manufactures' improvements to comply, modern 2 strokes are burning less oil and more oxygen.
This creates more heat and increases deposits and wear if you are not equipped with the proper oil.
Manufactures will often list "recommended" oil, their OEM brand will be marketed as premium, and every manual, warning label, and employee will tell you that it's the best synthetic 2 stroke oil for your machine.
This is almost never the case.
In most instances you will be receiving a cheap conventional 2 stroke oil with their brand's sticker slapped on it for a hefty price tag, all while claiming to be the best synthetic 2 stroke oil for your motor.
AMSOIL's field study shows some very impressive results proving the manufactures wrong.
With a full season of hard work, Interceptor synthetic 2 stroke oil kept all three machines running smoothly and prevented carbon buildup and wear.
AMSOIL is the highest quality replacement for manufacture branded oils and is backed by AMSOIL's limited warranty.
No matter your hobby or profession, AMSOIL has you covered. I have already talked about our Interceptor synthetic 2 stoke oil a little, but I'm going to cover the other five really quick.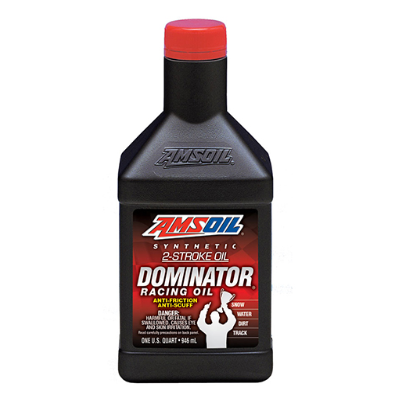 AMSOIL Dominator Synthetic 2 Stroke Racing Oil (TDR)
Specially formulated by AMSOIL to protect and lubricate high-output synthetic 2 stroke engine in high performance vehicles, as high performance and race-oriented engines often run at a much hotter temperature than traditional recreational motors.
AMSOIL Dominator synthetic 2 stroke racing oil is engineered specifically for racing. It contains a unique formula designed to provide the correct film strength and optimal protection, all well burning cleaner. 
AMSOIL Saber Professional Synthetic 2 Stroke Oil (ATP)
Designed with professional applications in mind, Saber Professional Synthetic 2 stroke oil is a formulated premix created for lawn care professionals and homeowners for use in weed eaters, leaf blowers, and lawn mowers.
Capable of lowering and even eliminating smoke, improving throttle response, and decreasing emissions and deposits. It also works with all mix ratios while providing the best protection on the market.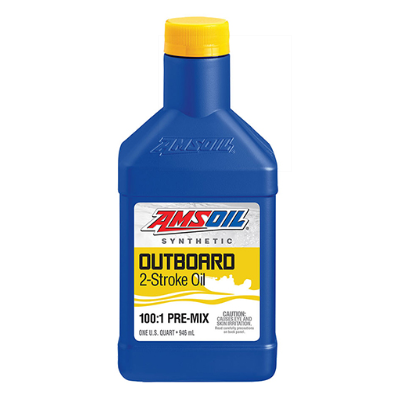 AMSOIL Outboard 100:1 Pre-Mix Synthetic 2 Stroke Oil (ATO)
Made specifically for outboard motors, Outboard 100:1 pre-mix synthetic 2 Stroke Oil is a low odor, low aquatic toxicity, low smoke mix that generates fewer emissions when mixed at 100:1.
It has excellent lubricity and cleaning properties, improves throttle response, and delivers the best protection and performance possible.
HP Marine Synthetic 2 Stroke Oil (HPM)
Designed for use in high performance watercraft, HP Marine Synthetic 2 Stroke Oil offers the same benefits as AMSOIL Outboard 2 Stroke Oil but with higher wear resistance to protect the engine internals for ultimate protection in high performance and heavy use watercraft.
Amsoil has conducted a field test of the HP Marine Synthetic 2 stroke oil where it was used in a 250 horsepower Evinrude E-TEC engine on a heavy-duty rescue vessel for 534 hours of operation.
An ASTM calibrated rater analyzed the components and gave each part a rating on a scale of 0-10 (10 being perfect, 0 being excessive wear.)
The results showed Amsoil's synthetic 2 stroke oil provided excellent wear protection and kept deposits to a minimum.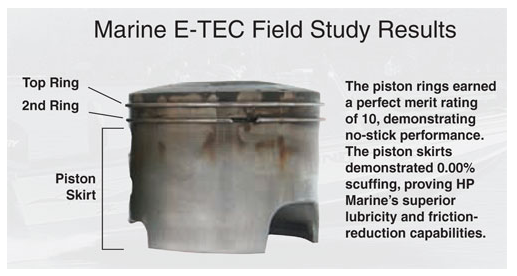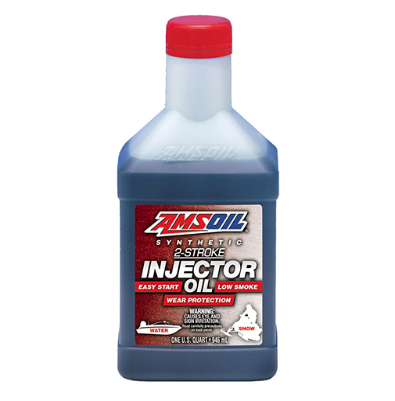 AMSOIL Synthetic 2 Stroke Injector Oil (AIO)
Finally, we have AMSOIL's all around use synthetic 2 stroke oil. Offering the convenience of a single formula for all applications, Injector synthetic 2 stroke oil provides an affordable, quality oil for the cost-conscious enthusiast that covers all recreational equipment.
Designed for easy starts, low smoke, and increased engine life, its reliable film strength and high lubricity protect against bearing and piston wear. 
For more information on this topic or any other question you may have feel free to contact me.
If you are interested in becoming an AMSOIL dealer follow the link below to get started.
How to Become an AMSOIL Dealer
Sincerely,
Jesse Hull
Mechanical Engineer
AMSOIL Direct Jobber
913-713-8850  |  Privacy Policy